Mr Legere,
I'm writing this in hopes it will help you straighten out the significant problems your company has with:
Your website
Your order fulfillment process
SIM Activation Process
Network strength
FYI: This page is not linked to my blog. Only people that have the link can access it. I've literally put 2 hours into preparing this post. If you fix these problems, I'll delete the page.
First, let me explain why I'm even bothering: A few weeks ago, a friend told me about T-Mobile offering unlimited texting and data while traveling internationally. Since we are frequently in Europe, we normally use local SIMs while there. I tweeted about this here. I also checked out the T-Mobile plans and realized that, as I'm a veteran, my family of 4 would save over $100 per month from what we're paying AT&T.
Unfortunately, this same friend has had "No Service" at our house and failed to quickly get texts several times; so, I decided to try out T-Mobile with a Pay As You Go SIM. This way, I'd know for sure how good the call quality is and how reliable the service is at my location. This is where the troubles start.
Website Problems
Your T-mobile.com website has many bad links and navigation issues.
Starting on the home page, I was looking for something like "Prepaid" or "Pay as you go" plans.
Clearly the "Plans" link at the top of the page is the way to go.
https://www.t-mobile.com/cell-phone-plans
Near the bottom, tap "Shop prepaid plans"
https://prepaid.t-mobile.com/marketing-module/prepaid_home_page.html
Something is clearly wrong with this page.
I sent this info via Direct Message to your @TMobileHelp team on August 30, 2018. The problem is STILL not fixed!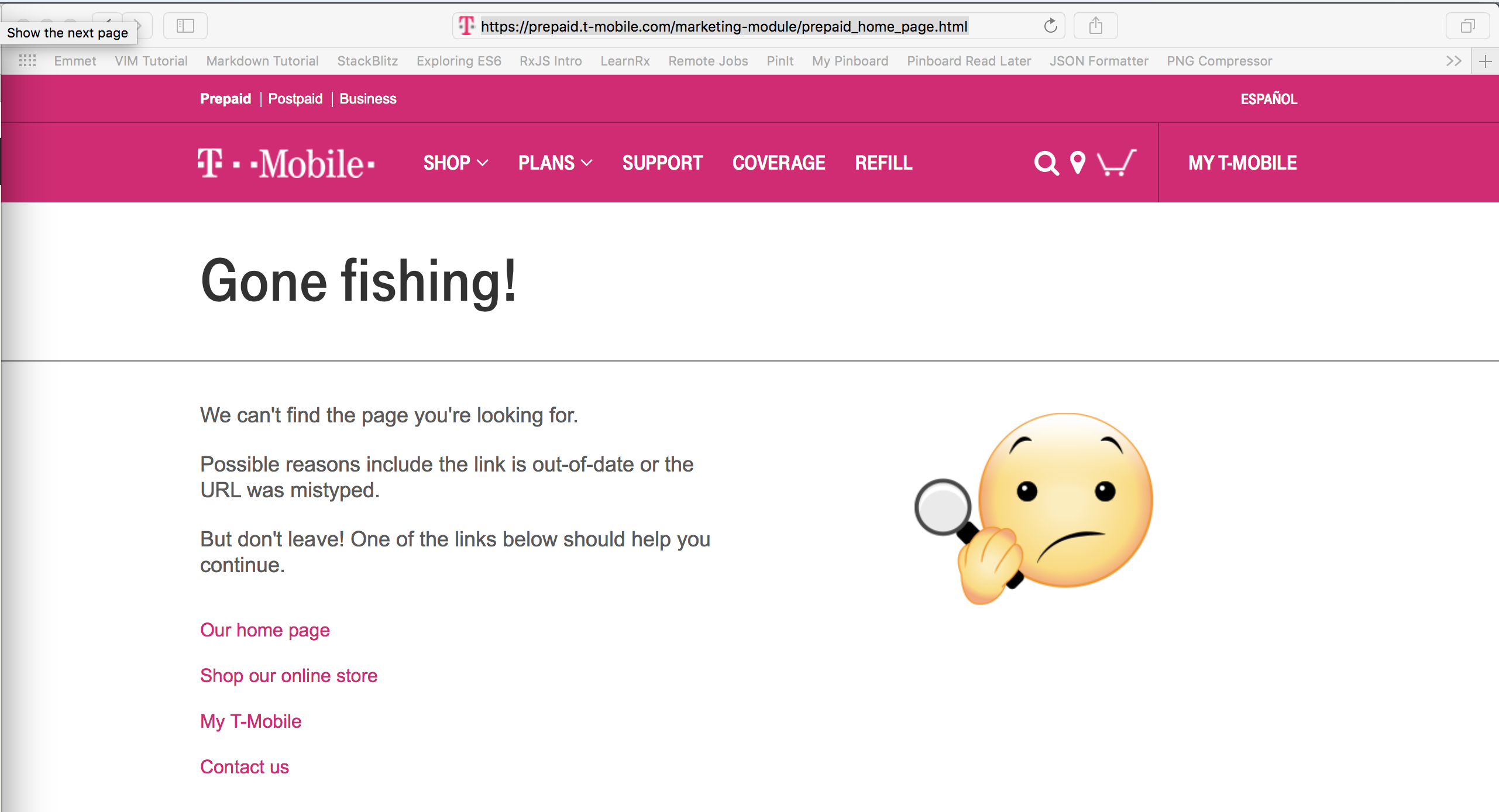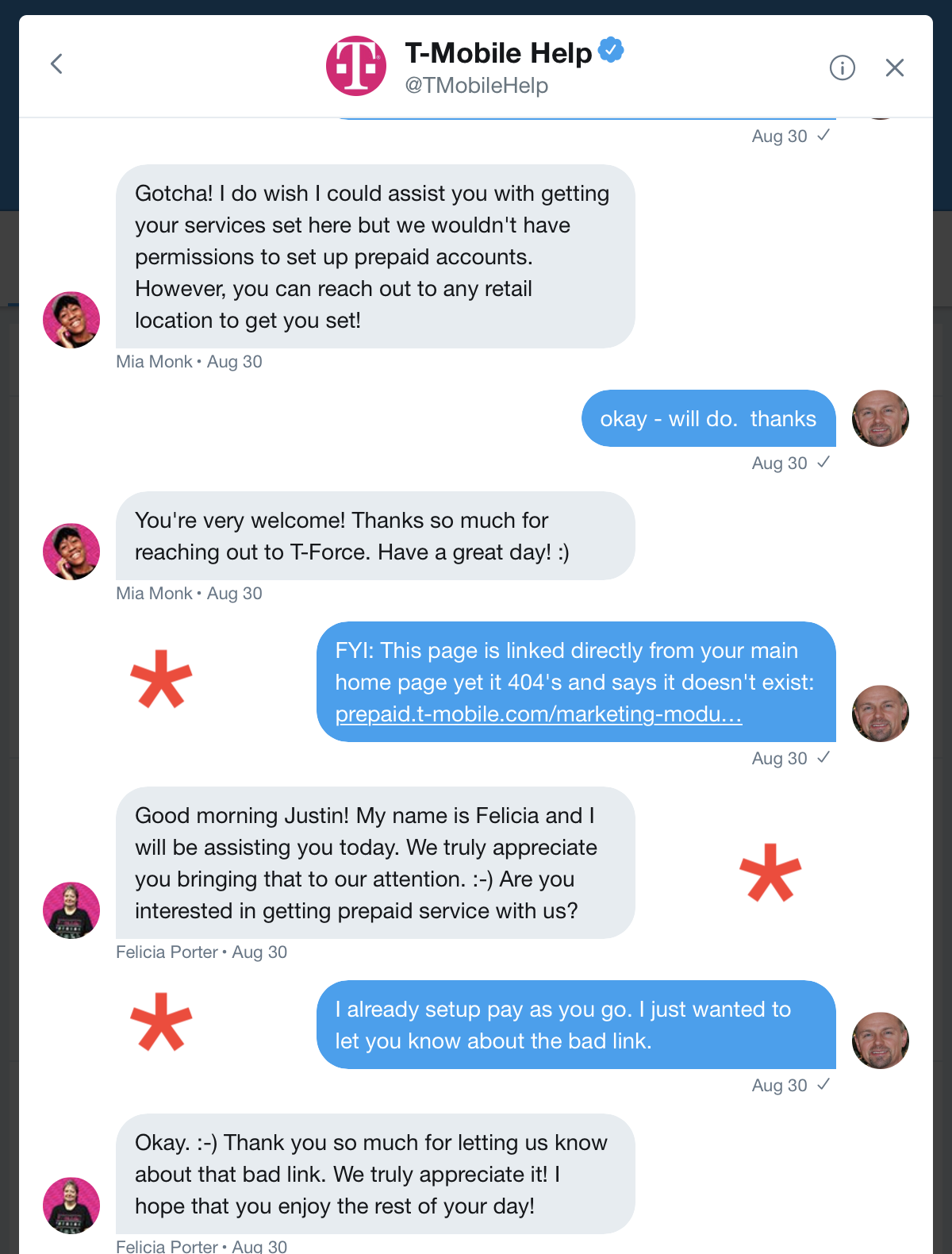 I continue trying to find a way to look at your prepaid options. From the home page and the main "Plans" page, there is simply no way to get to any informatoin about prepaid plans!
I stumbled around your site and discovered that if you click any of the "Activate your Prepaid phone or device" links WAY down at the bottom of the page under the SUPPORT list, you will be taken to a page asking for your location/zip code : https://prepaid.t-mobile.com/prepaid/bring-your-own-device
On this page, if you tap the "Plans" link at the top, you'll see a list for Prepaid and Pay As You Go. Wow, this was pretty hard to find.
https://prepaid.t-mobile.com/prepaid/marketing/pay-as-you-go
Click the "Get Started" link
https://prepaid.t-mobile.com/prepaid/plans/plan-details?familyId=pay-as-you-go
This site clearly needs a zip code, however when you tap the "Change" link, you get this "[Object Object]" text in the field and it can't be changed.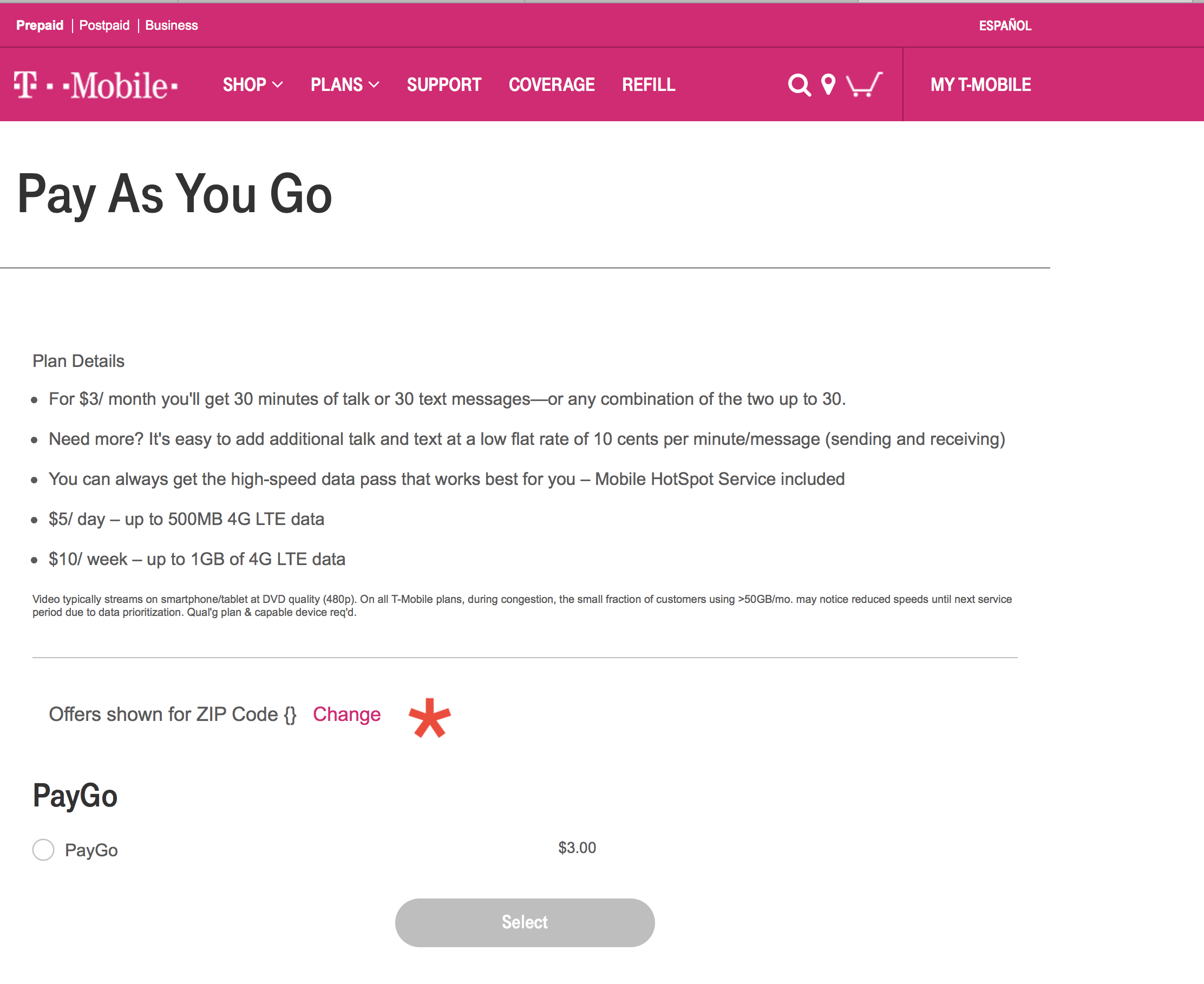 Despite not entering a Zip Code, I'm able to select the "PayGo" option for $3.00 and tap select.
https://prepaid.t-mobile.com/prepaid/shop/product-selector
On this page, I indicate I'm going to "Bring your own device". The "Go To Cart" button is disabled; so, I have to figure out what I need to do now. Finally, I realize the "Bring your own device" radio button exposed a "Let's Connect your device with this line!" link that is barely noticeable. I tap it and go to :
https://prepaid.t-mobile.com/prepaid/bring-your-own-device
Here I skip the "Check by IMEI" option as I know my phones support the T-Mobile network. I also choose "I need to buy a T-Mobile SIM card" and finally select the "Continue" button.
https://prepaid.t-mobile.com/prepaid/shop/product-selector
Here I finally get to click "Go To Cart", go to another page, and tap "Checkout".
https://prepaid.t-mobile.com/prepaid/cart/login
I don't have an account; so I choose "Sign Up"
Eventually, I make it through this login process, complete the order, and get a confirmation email. Yeah!!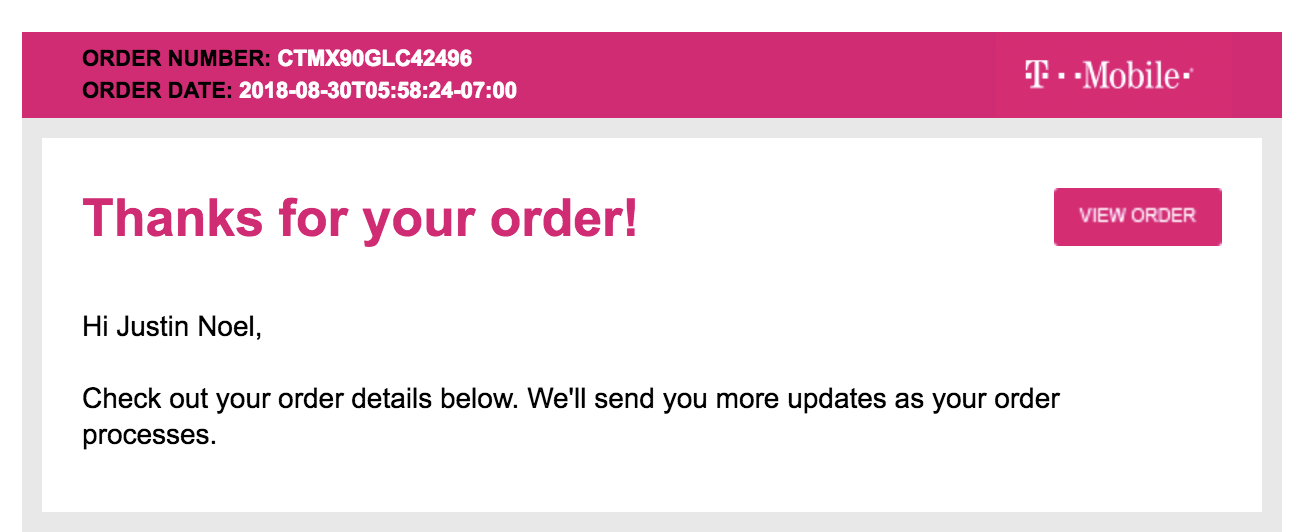 Order Fulfillment Issues
After a few days, I decided to check the status of my order. In the original email, I tap the "VIEW ORDER" link which takes me to:
https://secure-checkout.t-mobile.com/webapp/wcs/stores/servlet/TMCcoOrderStatusLookupForm?langId=-1&storeId=10551
Here I fill out my order number, billing zip code, and last name and tap "Continue"
The system asks me to enter a valid order number despite copy/pasting the order number directly from the email.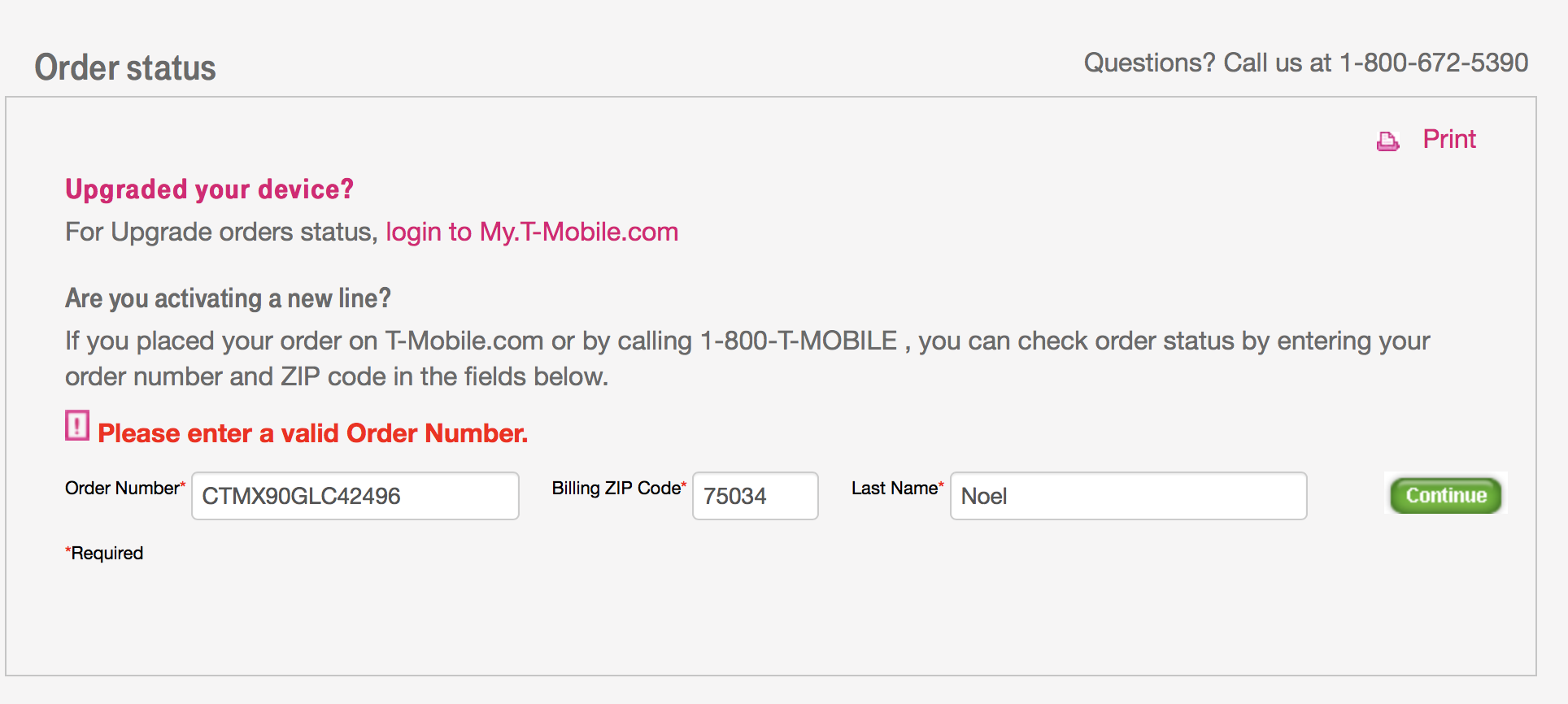 I never get past this issue and give up. After all, it will just be a few days until I get the SIM via the mail.
I'm a bit of an environmentalist; so, I'm dismayed when a big box arrives with a tiny little SIM starter kit inside. Why couldn't this have just been shipped in a flat envelope?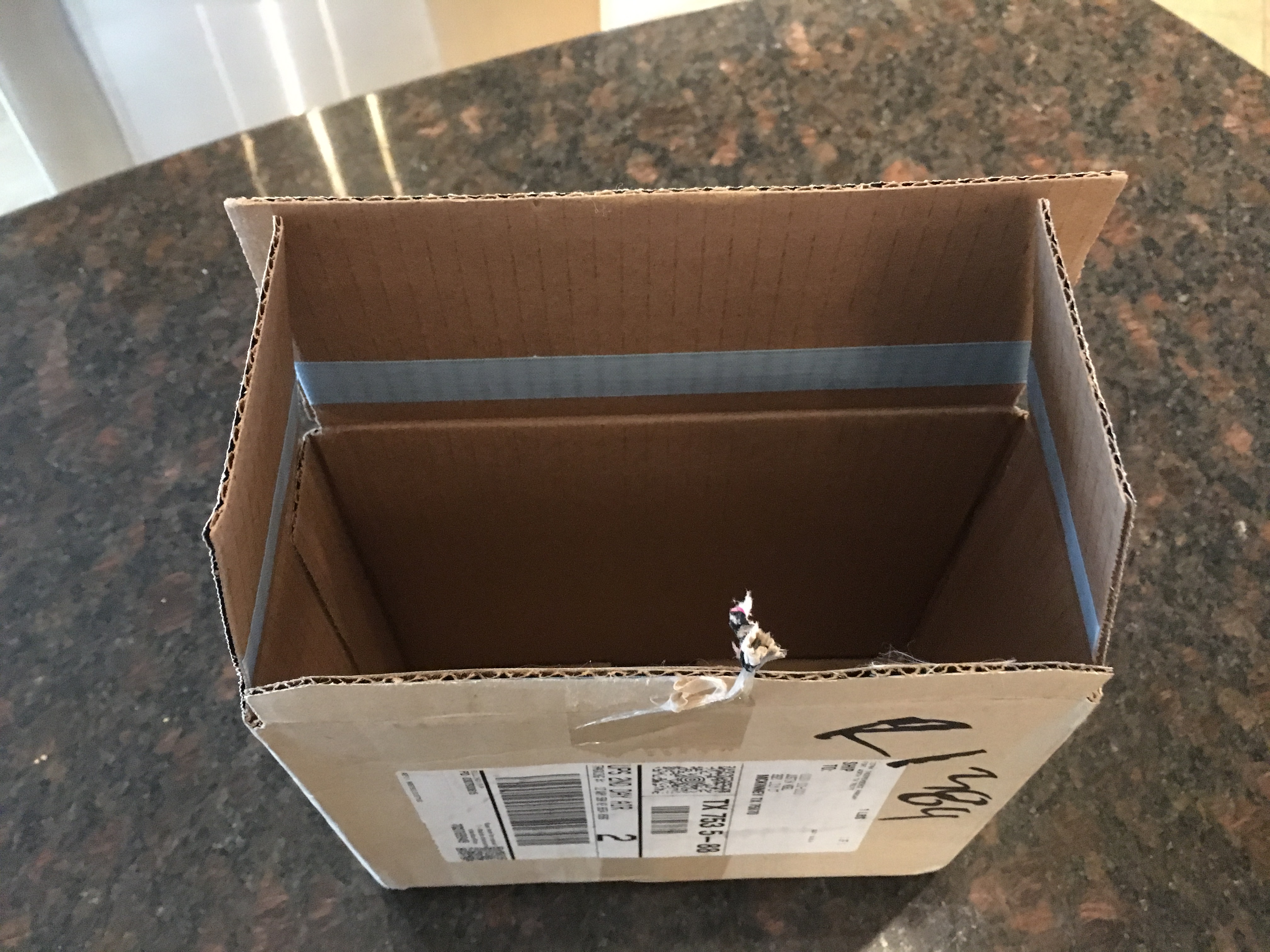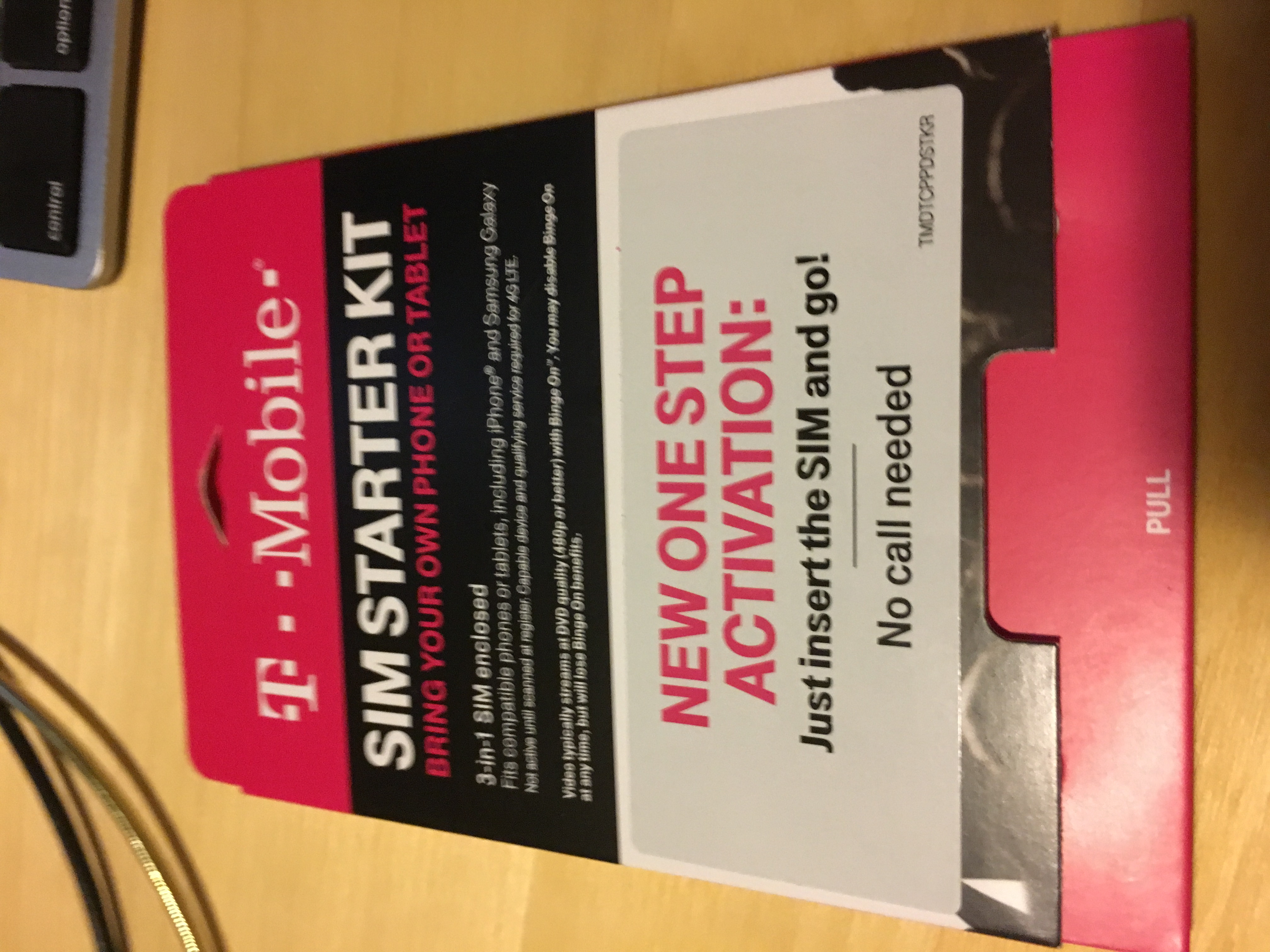 SIM Activation Process
On 9/4/2018 at about 8:30 pm CST, my son and I put the new SIM in his phone. Right away, we see T-Mobile as the carrier.
Since the SIM Starter Kit (see image above) has a giant label on it that says "New One Step Activation, Just insert the SIM and go! No call needed", we tried just that.
Unfortunately, test calls automatically redirected to T-Mobile. When we went through the IVR steps to activate the SIM with the activation code in the packet, we were told we would need to speak to customer support. The wait time was estimated as 1 hour 27 minutes to 2 hours and 30 minutes. Alternatively, we could choose a time to have T-Mobile call us back. We chose to be called back at 9:00 am CST on 9/5/2018.
After hanging up, we noticed an activation website in the starter kit.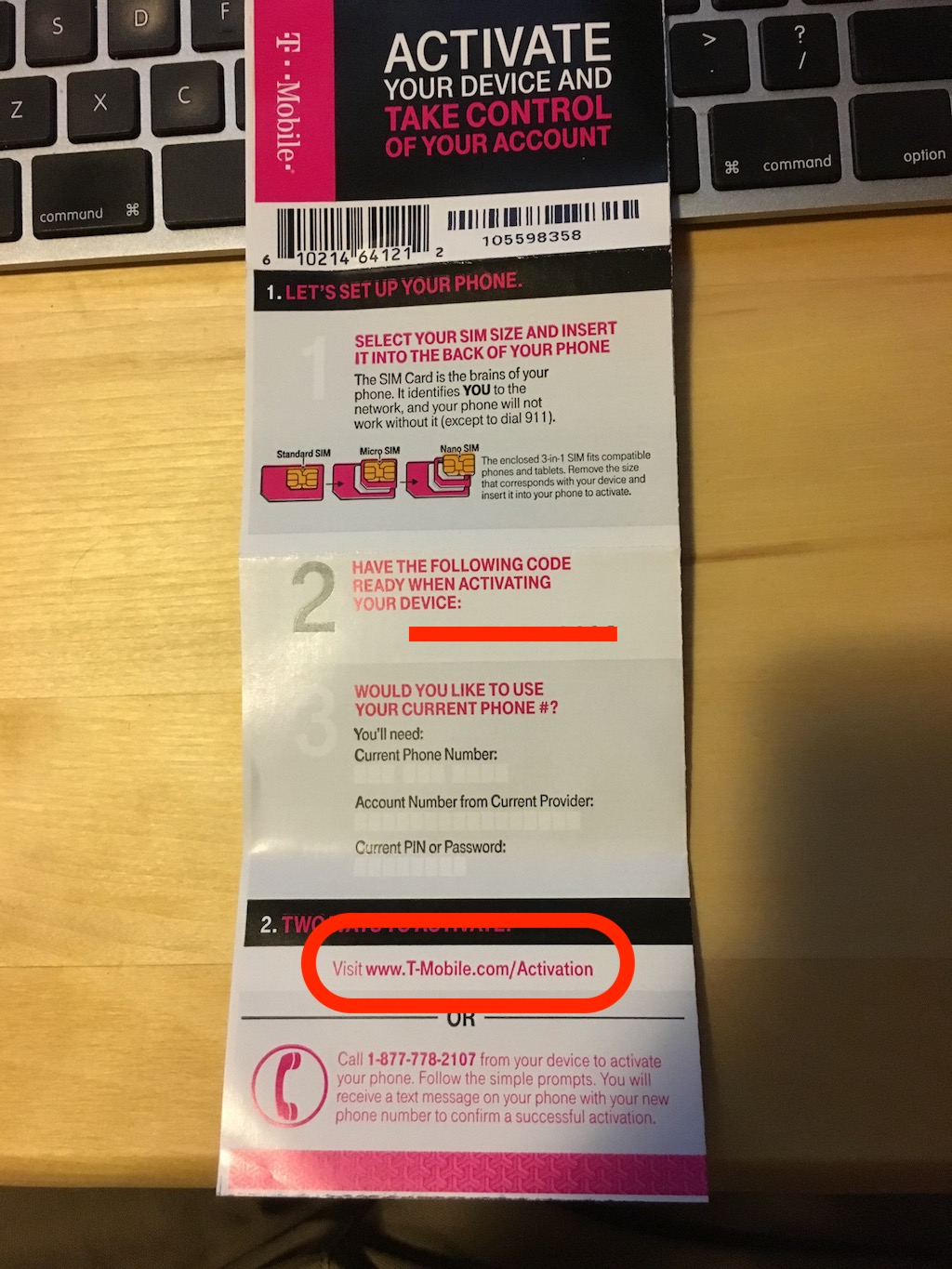 https://www.T-Mobile.com/Activation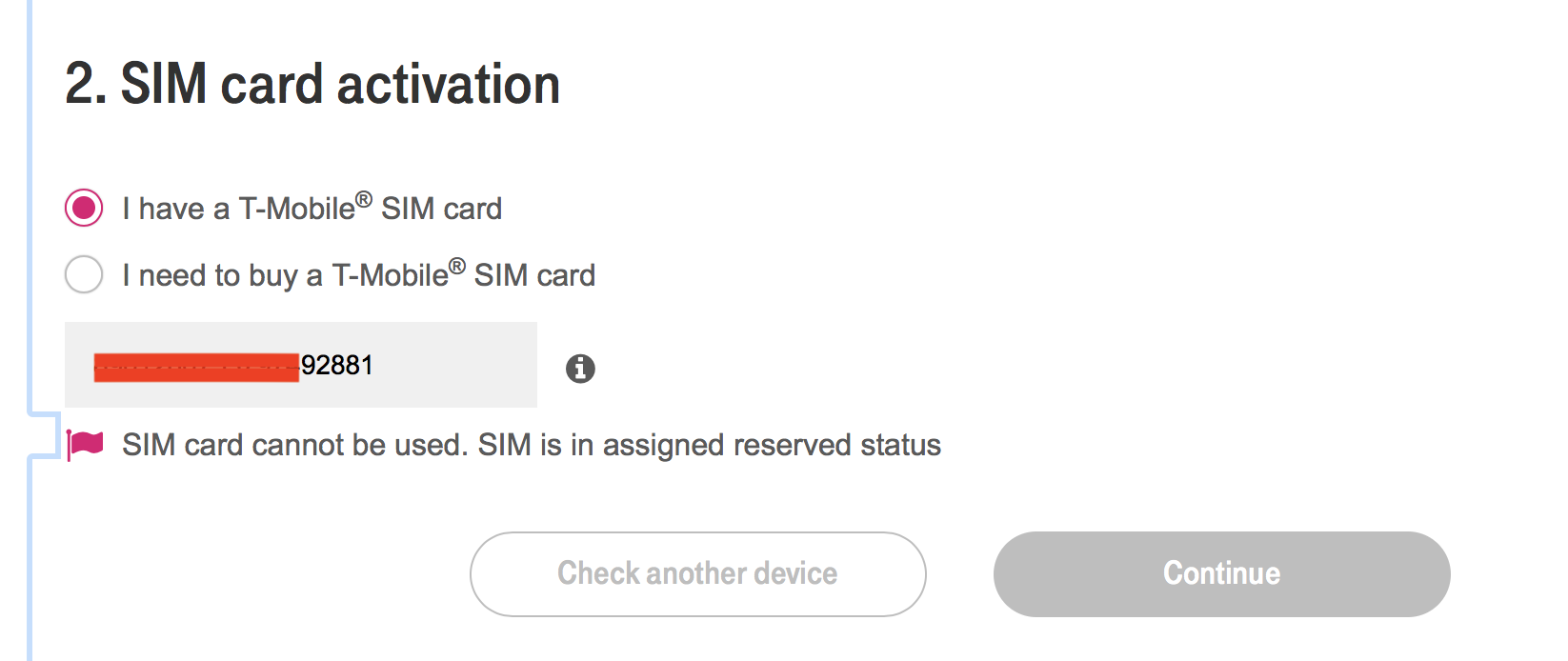 I finally give up and wait for the call the next day.
Activation Attempt #1
I was amazed to receive the call just 5 minutes after 9:00 am.
The rep was courteous and helpful but confused about the SIM. He could not find the SIM number in the system. He wanted an account number which I could not provide him.
Finally, he said he'd discovered that I had a "rebellion SIM" (whatever that means) and had to transfer me to another department.
This other department found the SIM number in their system. However, the Secret PIN I had registered with several days before did not match their systems. Additionally, the SIM was associated with a phone number that was completely different than the phone number I reserved when ordering the SIM.
In the end, the rep activated the SIM but warned me it might take 2 hours to provision.
By 12:00 pm CST, the phone had received no activation text and calls were still redirecting to T-Mobile.
Activation Attempt #2
At 12:30 pm CST on 9/5/2018, I used the phone to attempt another call. Again, it redirected to T-Mobile's activation line; so, I waited.
I worked with Carmen this time. She was very helpful, professional, and courteous. Unfortunately, she also could not find this SIM number in her systems. She tried looking for my account based on my last name and SSN. She could not find me anywhere. I explained the only other information I had was an order number.
Carmen transferred me to another department to speak to Wes. Again, you have very helpful, friendly, and professional staff. Wes was able to look up my order and finally transfer me to another department to activate the SIM.
This time John activated the SIM. He was profusely sorry for the previous problems. However, he was 100% certain the activation would work after a 2 hour provisioning process. He even took care of getting the SIM activated with the correct phone number that I had received when I ordered the SIM.
Unfortunately, I never received a text confirmation that the SIM had been activated. Again, any outgoing calls redirected to T-Mobile.
I gave up and just decided it wasn't worth $100 per month to deal with your company's problems.
Activation Attempt #3
On 9/6/2018 at 6:11 am, I noticed the SIM has still not activated. I decided to resort to Twitter to get assistance. I tweeted to the @TMobileHelp support team. They quickly got me to DM them.
Long story short, I worked with Joslyn to try to find the problem. Again, she struggled with finding my information. Finally, Joslyn discovered what seems to be the underlying issue with this SIM. Apparently, the original order was not processed completely and was pending review.
How in the world would a SIM get shipped and delivered if the order was still under review?
Eventually, Jessica came online to explain she had gotten off the phone with the activations group. There was a problem with the order/SIM. She filed a ticket with them to resolve it. Unfortunately, she explained it would take 7 to 10 business days to resolve. She promised that eventually, the SIM would automatically be activated.
Wow! So, from ordering on August 30, I may have to wait until September 17 to hopefully have an activated SIM?
Network Strength / Coverage
As I mentioned, my friend sometimes sees "No Service" at our house and can't get texts. He's mentioned that an entire corridor along El Dorado in McKinney, TX has low to no service.
With our new SIM in an iPhone SE, we usually see only 1 bar.
We live in a pretty affluent area. My particular zip code is upper middle class homes surrounded by several very wealthy neighborhoods. If T-Mobile doesn't have rock solid coverage here, where do you have coverage?
Suggestions
Needless to say, I am not even slightly impressed with T-Mobile at this point. If you can't handle the processing of a simple pay as you go SIM, how much trust can I put in your ability to handle the cell phone service for my whole family in a reliable manner?
The only positive impression I have of T-Mobile is that your support staff are hardworking, friendly, and professional.
Clearly, no one at T-Mobile should be satisfied with all of these problems. I'd strongly suggest you do the following:
Hire an intern or two to click every link on your website to ensure they work and lead to an appropriate page.
Have your prepaid marketing department work with your website team to make it easier to get to their pages.
Hire someone to periodically go through your ordering process to make sure it's user friendly and works from end to end.
Fix the website issues with the zip code selection mentioned above. "[Object Object]"
Fix the order management process. Fix the "View Order" system so customers can lookup their orders.
Educate the support staff about how to thoroughly investigate an activation problem before telling a customer the SIM is activated.
Get me a test device pronto so I can see if I still want to try to switch to T-Mobile after all this - call me crazy.
FYI: Back on August 30, @TMobileHelp (TJEllwood) suggested I order one of your trial devices via this link: (https://www.t-mobile.com/offers/free-trial). Unfortunately, those devices are not availabe for the Dallas, TX area.